The Best Bed Sheets for a Comfortable Sleep
What's better than a lustrous royal bed? Nothing, as far as we know! While polyester and cotton sheets have their own appeal, there's something that spikes interest in silk bedding. Silk sheets have always been a luxurious choice for bedding, silk is a smooth material, and it prevents friction or irritation to the skin. Silk is also a lightweight material that can help with temperature regulation and keep people cool during sleep.


In order to help you find the best one for a comfortable sleep, we've rounded up a list of the best silk sheets so you can make the top choice for you.


Our Favorite Silk Sheets in 2021
1. 22 Momme Silk Sheet Set | 4pcs

Benefit from natural fabric, Silk bedding is very light and moves delicately over your skin. Silk has a natural defense mechanism against all of irritants and pollutants. Silk bedding is an excellent choice for those sensitive to allergens in other traditional types of bedding.

2.19 Momme Silk Sheet Set | 4pcs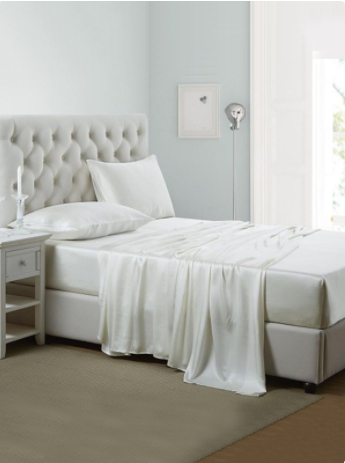 We develop technology and upgrade process, just for the best experience. Silk contains 18 kinds of the same amino acids as human skin, so wrapping your skin in amino acids is like putting a face pack on your body all night long.


3.25 Momme Silk Sheet Set | 4pcs



4.Oriental Style Printed Mulberry Silk Fitted Sheet Set


We select quality mulberry silk fabrics for the sheets set, offer you a luxurious pure color visual experience. Its color is noble and the texture is drooping and smooth like a waterfall, which makes your bedroom full of luxury and brings you a royal and aristocratic sleep experience.