What kind of pants do you wear with a silk shirt?
If you want to wear a
silk shirt
, you may wonder what kind of pants to match, a pair of silk pants would be a pretty good choice to help you look feminine and elegant in a very natural way. You can easily build a business casual outfit around them and, most important, they are pretty easy to pull off. I have collected some of the best
silk pants
outfit ideas to show you. Let's dive in now.
1. White V Neck T-Shirt with Women Polished Elastic Waist Silk Pants Hem Folded With Slit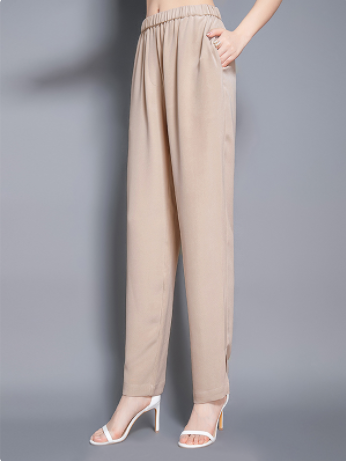 If you want to look more ladylike, you may want to try this outfit that uses a very soft color tone. The top is a white v neck t-shirt. Make sure that it is made of a fabric of high quality or the outfit would look too casual for work. Pair the tee with a pair of apricot elastic waist silk pants.

2. White T-Shirt with Exquisite Elastic Waist Silk Pants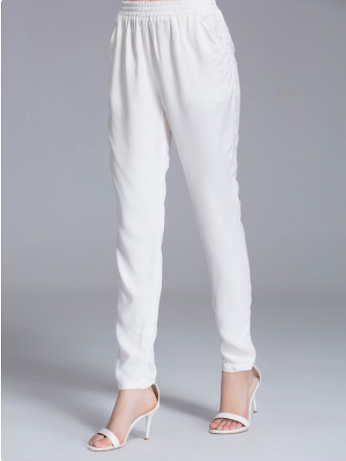 This is a very similar business casual outfit to the previous outfit just mentioned. To achieve this look, wear a white t-shirt of high quality. Pair it with a pair of black and Exquisite Elastic Waist Silk Pants. Wear black pointed-toe heels and a black clutch bag to complete this smart and stylish look.

3. White T-Shirt with Exquisite Elastic Waist Silk Pants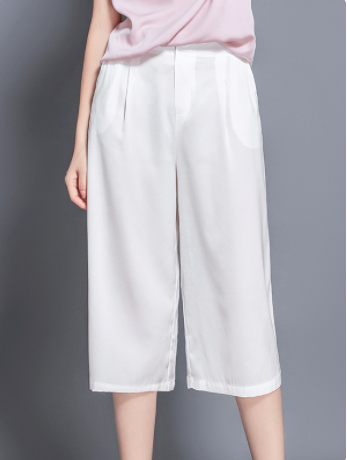 Now, let's take a look at how a silk top and silk pants can be put together to achieve an elegant look. For example, you can wear a black short sleeve button-up silk shirt with a pair of white wide-leg silk pants. Wear a pair of black strappy open-toe heels to look leaner and more elegant.

4. Black Button Up Shirt with Waistband Button Detail Silk Pants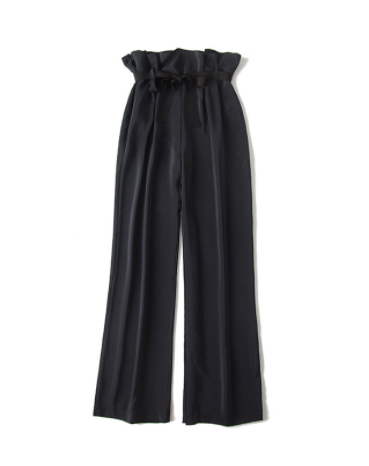 One nice little trick to make your legs look extra long is to wear a pair of flared pants with heels and a fitted top. To apply this trick to your outfit, you can wear a black floral fitted button-up blouse with Trendy Elastic Waist With Waistband Silk Pants. For the shoes, wear nude platform sandals to complete the super chic look.

5. White Long Sleeve Blouse with Women Elastic Waist With Waistband Silk Pants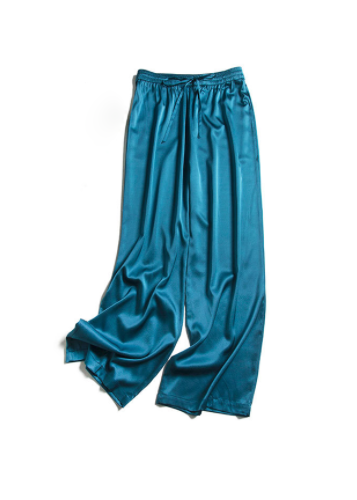 To achieve a minimal black and white look, you can try this artistic and breezy outfit here. For the top, wear a white buttonless blouse. Pair it with black Elastic Waist silk pants and a pair of black pointed-toe heels to achieve this simple and beautiful look.


Here are the silk pants outfit ideas that I want to share with you. As you can see, these pants can really add a lot of variety to your everyday outfit, especially business casual outfits. Give them a try and you will feel the fun of wearing something beautiful and unique to work.